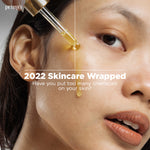 While you think you've used enough chemicals and skincare products throughout the year, drier weather calls for more intensive care. As the chilly winds start blowing, you may think there's no need to follow a proper winter skin care routine or use nutrient-rich products given the pleasant conditions. However, neglecting your skin requirements during the winter can be extremely harmful to your skin health, quality, and appearance!
More than questioning if we're using too many chemicals on our skin, the real question is whether we're using the right products with the right ingredients in it. While there are several skin problems you may deal with regularly, winter brings its own set of skin issues!
So as the temperature drops & our skin cries out for care, stop neglecting your skin's needs by first understanding the common winter skin problems faced during the chilly season.  
Common skin problems faced in winter 
Winter rash: Developing redness & scaling, flaky skin that sheds in the dry season.

Eczema: Extremely dry skin that leads to skin redness, itching, and flaking.

Chapped lips: Having a very thin skin layer, lips lose moisture quickly & tend to crack & flake in winter.

Discoloration: Vasoconstriction of blood vessels leads to poor blood & oxygen supply to skin cells, causing skin discoloration that looks like hyperpigmentation or blemishes.

Dullness: Cold weather restricting blood circulation can deplete the luminosity & radiance of the skin.

Premature aging signs: Developing wrinkles, fine lines, smile lines, creases, etc., as skin loses moisture content and becomes loose. 
While we've understood the major winter skin concerns faced during the cold season, you may still be asking questions like how to get rid of wrinkles, fine lines, smile lines, flaky skin, winter rash, etc. Here's the answer: All these skin concerns can be prevented & resolved with anti aging skincare products enriched with hydrating ingredients!   
Hydration rich Petitfee products to elevate your winter skin care routine 
This winter, don't neglect your skin needs when we at Petitfee offer a vast range of hydrating skin care products to resolve all winter skin woes! Staying true to the Korean beauty belief of maintaining a basic skin care routine that improves skin health for the long run, here are a few anti aging skincare products that give your dry skin an instant hydration boost!  
Beautifying Hydrator 
Formulated using one of the best anti aging ingredients - Ceramides, our Petitfee Beautifying Glow On Hydrator is the best sulphate-free, paraben-free, cruelty-free moisturizer for dry skin! A perfect blend of essential oils and skin tightening Ceramides, including this hydrator in your winter skin care routine, can help you maintain a supple, hydrated & dewy complexion throughout the dry season! Applying a thick coat of this intense moisturizer allows the Ceramides to bind skin cells, smoothen skin texture, and combat premature aging signs like wrinkles & fine lines! Whether you want to apply it for intense nourishment overnight or before makeup application, this Ceramides-rich hydrator allows you to flaunt a fresh water glow all day! Here are some excellent benefits of our two-in-one moisturizerf ro dry skin:-  
Gets rid of flaking skin & dead skin cells.

Fills moist gloss into your skin for a dewy finish.

Effective skin tightening for a supple, youthful complexion.

Smoothens wrinkles & fine lines for refined skin texture.
Pep tightening eye cream 
Infused with Peptides, our Petitfee Pep tightening eye cream is the best anti aging wrinkle cream to choose from this winter! With a 'Power Lift' formula, this Peptide-rich wrinkle cream has a 3-in-1 approach to offer anti aging effects. With every application, it deeply hydrates & nourished dry winter skin, stimulates collagen production, and initiates repair of damaged skin cells. Offering visible results in barely 20 to 27 days, choose this non-sticky & effective anti aging eye cream that delivers the goodness of protein-boosting Peptides into your skin layers!
Here are a few incredible benefits of using our anti aging Pep tightening eye cream:-
Repairs damaged skin cells and improves under eye skin texture.

Stimulates collagen production in the body.

Effectively smoothens wrinkles around eyes, fine lines on the forehead & smile lines around the mouth. 

Hydrating touch for dehydrated and dry skin in winter. 
Collagen & & CoQ10 Hydrogel Eye Patch 
Skin around the eyes tends to be delicate and most prone to premature aging. In winter, your under eye skin require an effective anti aging formula to prevent the development of wrinkles, fine lines, crow's feet, etc. And our Petitfee Collagen & & CoQ10 Hydrogel Eye Patch does exactly that! Delivering Marine Collagen, one of the most potent type 1 collagen forms that is an effective skin elasticity booster, our Collagen & & CoQ10 eye patch has a hydrogel locking mechanism that locks Hyaluronic Acid and Collagen deep into skin layers. This improves skin elasticity and texture with every application for wrinkle free, dewy under eyes all winter!
Here are some amazing benefits of our anti aging hydrogel under eye patch:-
Boosts collagen production for improving skin elasticity, as collagen levels deteriorate during dry weather.

Controls premature skin aging by reducing appearance of wrinkles & fine lines.

Fights UV damage & initiates skin tissue & cell repair.

Tightens loose, sagging, and wrinkled skin.

Soothes inflammation & puffiness.
Black Pearl & Gold Hydrogel Eye Patch 
As our skin becomes dull & discolored during the winter, it is essential to use products that not only replenish hydration levels but also rejuvenate your skin from the inside out. Formulated with Black Pearl Extract & 24k Gold, our Petitfee Black Pearl & Gold Hydrogel Eye Patch is perfect for a winter glow boost! Transferring the skin hydrating & brightening ingredients like Seaweed & Black Pearl extract deep into skin layers, this moisturizing under eye patch plumps up skin while reducing dark circles and dullness. Infused with gold powder, this under eye patch effectively improves blood flow to the skin cells & reduces appearance of wrinkles & fine lines. Offering multiple benefits in every application, get an instant gloss recharge with this hydrating, anti aging & brightening under eye patch! 
Here are some outstanding benefits of using the skin brightening & rejuvenating hydrogel under eye patch:-
Improves blood circulation to skin cells for a healthy glow.

Hydrates dry skin during winter and combats dullness.

Ensures skin brightening by reducing dark circles and tan.

Reduces the appearance of fine lines & wrinkles.

Soothes inflammation & puffiness.