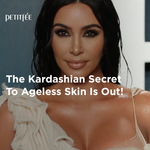 The Kardashian Secret Is Out & It's A Boon For Your Winter Skin Care 
People share a universal curiosity worldwide - what is the secret to the ageless skin of the Kardashians. Especially since members of the celeb family like Kim & Kris don't seem to be a day above 40! Lucky for you, we've decoded their secret. And it's as simple as maintaining a hydration-rich skin care routine! 
Research proves that maintaining appropriate skin hydration levels can control premature aging and diminish aging signs like wrinkles, fine lines, smile lines, etc., to a large extent!
How does a hydration rich skincare prevent premature aging? 
Low humidity & dry weather can instantly dehydrate your skin during winter, making hydration-rich skin care crucial. Neglecting your skin in the winter can result in the premature development of wrinkles, fine lines, smile lines, neck lines, crow's feet, etc. Good hydration and moisture levels in turn, helps you maintain a plump, supple, and smooth complexion that is free of these premature aging signs!  
No matter what claims you may be presented with by various anti aging treatment products and services, the best method to maintain skin hydration remains a consistent moisturizing skin care routine! 
And the simplest way to maintain good moisture levels is to include hydrating products in your basic winter skin care routine! However, there are certain ingredients that can take your winter skin care routine to the next level!
Free The Wrinkle with the best skin hydration ingredients! 
Let's get one fact clear about skincare: hydration is nothing without key ingredients. What we mean by key ingredients is hydrating agents that allow your skin to hold & retain moisture levels that ultimately boost your skin elasticity for a smooth, supple texture! 
Here are a few hydration pro products that will take your winter skin care routine to the next level! 
Ceramides
Essential fatty acids that help your skin retain moisture levels, Ceramides are vital lipids that help hold your skin cells together. Acting as a glue to hold your cells together while retaining moisture, this ingredient is not only a crucial hydrating agent but also anti aging essential! Ceramides work hand in hand with Hyaluronic Acid to not only plump up your skin & effectively tighten it for a supple, youthful glow! As our skin becomes dehydrated, flaky & wrinkled in the winter, including Ceramides in your skin care routine can be a boon for your aging skin! Here are a few benefits of Ceramides for skin:-
Skin tightening effect for wrinkled aging skin.

Enhances hydration levels during dry weather.

Improves skin barrier function.

Reduces skin inflammation for a clear, smooth complexion.

Rejuvenates dull, dry, and aging skin.
Our Petitfee Beautifying Glow On Hydrator is the best skin tightening & hydrating formula, thanks to its hero ingredient - Ceramides! Infused with deeply hydrating essential oils and anti aging elements like Ceramides, this is the best moisturizer for hydrating dull, dry skin during the winter. It effectively gets rid of flaky dead skin cells and rough texture for a super smooth, luminous, and dewy complexion! 
Hyaluronic Acid 
Known for its humectant properties that help your skin retain moisture levels, Hyaluronic Acid is a highly effective active ingredient that is a must-have for your winter skin care! Hyaluronic Acid is a boon for your face during the winter season as the humidity levels drop and zap out moisture & oil levels. This powerhouse ingredient plumps up your dehydrated skin in dry weather & effectively diminishes premature aging signs like wrinkles, fine lines, smile lines, creases, etc. Here are a few benefits of Hyaluronic Acid for your face:-
Intensely hydrating for smooth, supple skin texture during winter.

Controls premature development of early signs of aging.  

Improves skin elasticity by acting as an essential collagen booster.

Soothes skin inflammation, redness, and irritation.

Heals damaged skin cells by initiating skin repair.
Our Petitfee Beautifying Toner, formulated with hydrating agents like Panthenol & Hyaluronic Acid, fills your pores with gloss, shrinks large pores, and rewards you with silky-smooth skin free of wrinkles!
Peptides 
Essential protein-boosting amino acids, Peptides are a group of transformative skin tightening and anti aging elements that effectively reduce the appearance of wrinkles, fine lines, and smile lines. Mostly found in an anti aging wrinkle cream, they provide a 3-in-1 approach for lifting your under eye skin and delivering a youthful, wrinkle free complexion that glows! Here are a few benefits of using Peptides as anti aging treatment:-
Repair damaged skin cells and replenish skin texture.

Act as a collagen booster by stimulating collagen production.

Smoothen aging signs like wrinkles, fine lines & smile lines. 

Hydrates dehydrated and dry skin in winter.  

Delivers crease free, youthful complexion.
Wondering how to get rid of smile lines around the mouth, wrinkles around the eyes, and fine lines on the forhead? Peptides is the answer! Infused with Peptides, Our Petitfee Peptightening eye cream is the best anti aging eye cream for effectively reducing the appearance of wrinkles, fine lines, and smile lines. Delivering the goodness of Peptides, this non-sticky eye cream comfortably wraps around your eye rim. Its Power Lift Formula helps you strengthen skin cells, improve the eye rim barrier, and tighten your skin for a lifted appearance! 
Marine Collagen 
Collagen is a naturally occurring protein found in our skin that depletes with age & skin dehydration. Marine Collagen, on the other hand, is a Type 1 collagen derived from fish collagen peptides containing the highest levels of collagen and proven to be miraculous for dry, aging, and wrinkled skin. It is a skin tightening ingredient that can be introduced into your winter skin care routine for smoothening aging signs and improving skin elasticity! 
Here are some incredible benefits of Marine Collagen for your skin:-
Collagen booster for improved skin elasticity.

Controls premature skin aging for a wrinkle free complexion.

Initiates skin tissue & cell repair.

Tightens loose, sagging, and wrinkled skin.

Promotes skin cell renewal for a replenished, youthful glow! 
Enriched with Marine Collagen, our Petitfee Collagen & & CoQ10 Hydrogel Eye Patch is the best collagen booster for aging, wrinkled, and sagging skin! Effectively tightening your under eye skin, this under eye patch has incredible anti aging effects on your skin. Boosting collagen production, soothing puffiness, and combating early signs of aging, this Marine Collagen eye patch rewards you with luminous, wrinkle free under eyes!