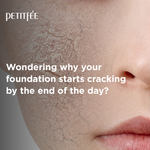 Dolled up in your best outfit for the season of festivities, this winter, if there is anything that can stop you from slaying any occasion it is your patchy makeup. Long-lasting makeup during the winter season is a far-fetched dream for most of us, so you are not alone! Blame it on your dry, chapped, and flaky skin, which is an inherent gift of the winter season. That being said, no makeup products can stay put, without flaking during winter, until you prep your skin well. 
The drastic weather conditions, and dip in air humidity, call for a special infusion of hydration into your skin to help reclaim its suppleness. So if you want to elevate your winter makeup look, a hydrating skincare routine is your ultimate saviour! And to help you in your winter skincare journey we bring to you Petitfee's hydrating Korean skincare collection. 
Continue reading further, for how to set up an epic winter skincare regime right before you wear your makeup! 
Winter Skincare Routine: Prep Your Skin with Hydration-Rich Products Before Applying Make-up! 
A beautiful, and perfect make-up look comes from taking good care of your skin. This holds especially true for winter when the moisture is sapped from your skin leaving it dry, flaky, and blotchy. And then when you apply foundation with the intention of hiding all the flakiness, it ends up accentuating those dry patches and ending up looking blotchy. 
But with the right winter skincare routine, you can combat the dryness, and get a dewy 
makeup look! So here are 3 essential winter skincare routine steps you must follow, get right before you apply any cosmetics on your skin - 
Hydrating Face Toner with Hylauronic Acid 
A good face toner remains to be an indispensable element of your skincare routine, for it not only deep cleanses your skin, but also smoothens your skin's texture. But choosing the right face toner can be daunting, especially when you have so many options available. However, for dry and flaky skin, the best kind of toner is one that contains an active moisturizing agent such as Hyaluronic acid for the skin. This hydrating agent can go long way in locking the moisture into your pores while adjusting the skin to its normal pH levels, leaving your skin plump, and supple!
Known for its moisture-retention, and skin-binding properties, hyaluronic acid for face, is your dry skin's knight in shining armour! This hero ingredient comes with magical benefits, that not only help in refining your skin texture, but also improve the skin elasticity, giving it a plump, and supple look! 
Pro- Beauty Tip - If you are looking for hydrating face toner, you can switch to Petitfee Beautifying toner with hyaluronic acid. Our sulfate, and paraben-free toner, works gently on your dry skin, giving it a hydration boost, and leaving it smooth and plump!
How to use our Hylauronic Acid Beautifying Toner? 
The beautifying toner is here to prep your skin before you apply your makeup. All you go to do is pour a pea-sized amount of our toner on a cotton pad, dab it all over your face to remove the flakes, and lock in the moisture.
Hydrating Eye Patches with Collagen Boost 
Just as your face needs a hydrating boost during winter, so does your under-eye! Your under-eye area is much thinner than the other parts of your face, making it more vulnerable to the harshness of the winter season, thus making it dry, and puffy. Thus, being a delicate area, your under-eyes need special care, and a dose of hydration. And there is no better way to nourish your under-eye rims than with hydration-rich eye patches, rich in marine collagen protein, 24K gold, and Black pearl extracts!
Each of these ingredients mentioned above has a superpower that leads to supple, and smooth-looking under-eyes! While collagen improves skin elasticity, the 24K gold improves blood circulation, and black pearl extracts effectively hydrate your skin. 
Pro-Beauty Tip - Getting hydration-rich, and skin-tightening under-eye patches is no more a daunting task. For we bring to you Petitfee Collagen & CoQ10 Hydrogel Eye Patch, and Black Pearl & Gold Hydrogel Eye Patch! These eye patches serve their purpose well, by giving your under-eyes, the hydration and elasticity it deserves!
How to use our Eye Patches? 
Once you cleanse your skin with our Beautifying toner, simply scoop the eye patch from the package, and apply it to fit the shape of your under-eye. Leave it for 15-20 minutes, for the best results!
Hydrating Face Moisturizer with Ceramides 
Moisturizers are non-negotiable winter skincare essentials. A hydrating face moisturizer will not only quench your skin's thirst but also improve its texture, making it a perfect canvas for your makeup products, which can last all day! Avoid a cracked complexion during the winter, by adding a hydration-locking face moisturizer with Ceramides NP.
While ceramides are naturally found in one's skin, they can be created synthetically for use as a skincare ingredient. And Ceramide NP is one such saviour ingredient that is known for reinforcing the skin's barrier strength to prevent moisture from leaving your skin. It can make your skin supple, resilient, and hydrated, besides the multiple benefits that it has to offer.
Pro-Beauty Tip - Your search to find a super-hydrating face moisturizer this winter, ends here. Bringing to you Petitfee Beautfiying Glow on Hydrator with Ceramides NP. Our moisturizer is a powerhouse of hydrating agents, that is sure to replenish your skin, leaving it supple, and plump.
How to use our Ceramides NP Beautifying Glow on Hydrator? 
Just take a pea-sized amount of our hydrator, and apply it evenly all over your face to get glossy, even-toned skin instantly!
Are You Ready to Slay Your Winter Make-Up Look Already? 
The only flakes that should be in your life this winter, are snowflakes! So get ready to bid adieu to dry and flaky skin with a hydration-infused skincare regime. Indulge in our Korean skincare range, and give your skin the attention it deserves! 
After all looking good is not just about applying makeup, it is about making your skin feel healthy from within! So this winter, let's take extra care of your skin, and get ready with hydrating skincare regime!