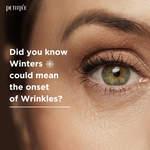 If there's one thing to dread about winter, it's the dehydrated, coarse, wrinkled skin it brings! 
Low humidity, lower temperature, and even drier weather makes the skin flake, itch and develop creases and wrinkles! But at Petitfee, we believe that with the right skincare routine, effective application, and hydration boosting products, you can flaunt a plump, supple, and wrinkle free skin all winter! 
Introducing hydrating & anti aging Korean skincare to Free The Wrinkle this winter! 
What is Free The Wrinkle about?  
As the winter sets in, do you wake up to tight, dull, and dehydrated skin? Do you notice wrinkles around eyes & mouth even after applying face cream for dry skin in the winter months?
It's time for you to Free The Wrinkle!
Like your mouth, your skin gets parched and needs that intense hydration boost during this dry weather. And as your skin gets further dehydrated, you're left wondering how to get rid of wrinkles around the eyes, fine lines on the forehead and neck, and laugh lines around the mouth! 
And what better than following a skincare routine packed with hydrating products to keep the wrinkles, fine lines, and dehydration away!
Benefits of following a winter skincare routine 
Let's have a look at how following a winter skincare routine can smoothen dry, dehydrated skin and prevent the appearance of wrinkles, fine lines, and creases!
Enhances skin texture and quality during harsh winters.

Control premature aging by improving skin elasticity.

Retains a firm, seamless, youthful complexion free of wrinkles & fine lines.

Prevents skin flaking & dead skin cell accumulation.

Maintains a healthy skin barrier function to avoid inflammation, infection or irritation. 
Winter Skincare Essentials: Hydration-rich Products In Daily Routine 
Layer up this winter, but not only with chic knit sweaters! Layer up this winter with a hydration-based skincare routine! And if you're worried about it being a 10-step intensive skincare routine, here's the good news - All you have to do is follow your basic AM & PM skincare routine but elevate it with hydration-packed products!
Here's a basic yet nourishing winter skincare routine that will keep premature aging at bay!
Cleanser 
All skin types undergo changes as the temperature drops outside. No matter what skin type you have, using a mild & gently cleansing face wash can drastically improve your skin texture & avoid the coarse, tight & dry feel. 
Opt for a gentle cleanser that's enriched with nourishing ingredients that allow your skin to retain moisture. Our Petitfee Beautifying Mood On balm to oil cleanser formulated with Shea butter maintains your smooth, supple complexion as it carefully cleanses your pores without the need of double cleansing! Choose the Petitfee Beautifying Mood On cleanser as your winter essential to deep cleanse your skin without ripping off natural oil!
Toner  
Contrary to most face toners that strip off the natural moisture content of your skin, a hydrating toner can go a long way in locking in moisture into your pores! It's time to replace the drying toner with one that actually contributes to supple & wrinkle free skin using a moisture-holding ingredient like Hyaluronic Acid! 
Known for its skin-binding & lubricating ability, Hyaluronic Acid is a powerhouse ingredient with multifaceted benefits like improving skin elasticity giving it a plump, supple texture and ultimately reducing fine lines & wrinkles. Switch to our Hyaluronic Acid-rich Petitfee Beautifying Toner that fills moist gloss into your pores and shrinks them for a smooth & soothed complexion!
Face Mask 
While a face mask is not considered a daily skincare essential, dry winter weather completely changes the scenario. No matter your skin type, using a nutrient-rich face mask can be a game changer for your skin's hydration levels. Our Petitfee Black Pearl & Gold face mask helps essential ingredients like 24k Gold, 5 Black Complex & Hyaluronic Acid penetrate deep into your skin layers to moisturize, replenish & rejuvenate your complexion from within! With our vegan face masks, get intense gloss care for your dry winter skin in 15 minutes & be rewarded with a glowing, dewy finish! 
Under eye patches 
K-beauty enthusiasts swear by these skincare essentials in winter and it ain't a face cream for dry skin! It's none other than deeply nourishing under eye patches that are the answer to how to get rid of wrinkles! The ultimate personification of self-care, under eye patches, is restorative as they target the areas that suffer from maximum collagen & elastin breakdown.   
Enriched with replenishing & deeply moisturizing ingredients like Marine Collagen, Black Pearl extracts and 24k Gold, our helps boost collagen production for under eye skin and effectively plump it up. Include these collagen boosting under eye patches in your basic winter skincare routine for improved skin elasticity & get rid of skin folds, wrinkles, and fine lines! 
Hydrator 
Here's the key factor to remember about moisturizers - the list of ingredients can be transformative for your skin! A hydrator gives the perfect finesse to your winter skincare routine as it helps lock in all the essential hydrating agents into your skin for retaining hydration that maintains better skin elasticity for a smooth, wrinkle free complexion. And one of the most promising ingredients to have in your hydrator is Ceramides!
Ceramides are vital skin-binding fatty acids that hold your skin cells together for firm & tight skin. Our Petitfee Beautifying Glow On Hydrator, enriched with Ceramides, is a boon for your skin as it helps your skin remain deeply hydrated & improves its skin barrier function to defend against harmful toxins.
Our Free The Wrinkle approach to winter skincare is not a temporary fix for your wrinkled & dry skin, but rather a sustainable routine that maintains your skin health, texture and quality for the long run! 
Staying in touch with our Korean skincare belief of maintaining skin health than simply beautifying its appearance, Petitfee offers you a vast variety of winter essentials, including our Hydrogel Eye Patches, Beautifying Cleanser, Toner, and Hydrator, and much more! Infused with hydration & collagen boosters like Essential Oils, Ceramides, Shea Butter, Peptides, and more moisturizing ingredients, Free The Wrinkle with us this winter!